In this post I want to show you a build of the character Gladiator, with which you can play through the game very well.
Gladiator's positive traits are that he gets +20% attack speed for each different weapon he owns.
He also starts with +5 melee damage.
The negative traits are that the Gladiator cannot equip ranged weapons, and he starts with both +40% Attack Speed and -30 Luck.
To make good use of the attack speed bonus for different weapons, we'll start the run with the Ghost Flint.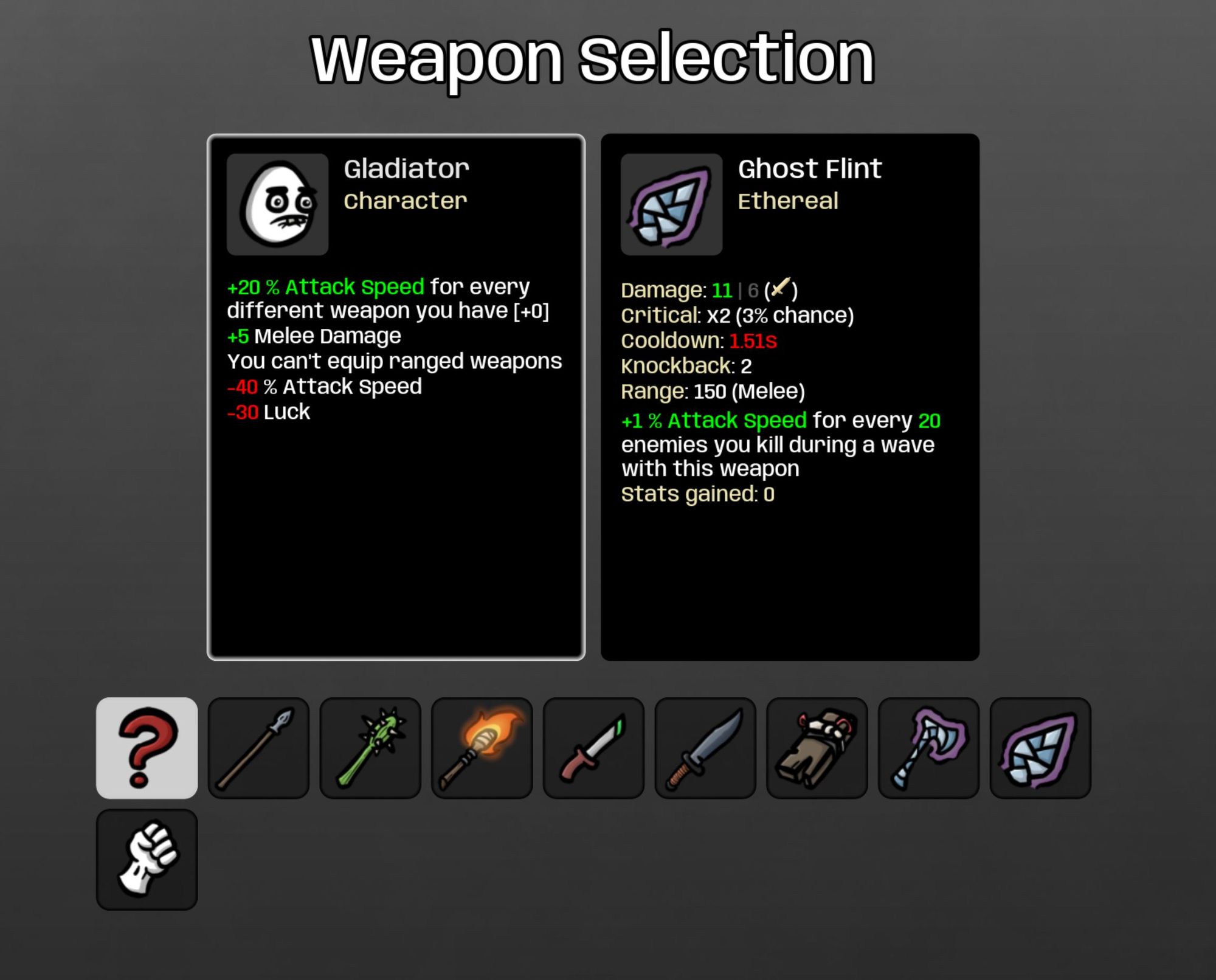 This gives us extra attack speed for every 20th kill during the turn.
As a second weapon, it is best to choose the other ethereal melee weapon, the spirit axe, which at level 1 gives you +1% damage for every 20 enemies killed.
You can buy the weapons you own multiple times and still get the character's attack speed bonus as long as they're different weapons overall.
So, by doing this, you automatically compensate for the character's negative attack speed and still gain attack speed from kills from the equipped weapons.
The weapon bonus of the ethereal weapons also gives you up to 30% chance to dodge, which you should bring to the maximum of 60% with other items and values so that you can make good use of them.
However, the ethereal weapons also give you -5 armor, which increases your damage taken. It is important to balance this negative value and turn it into a positive one so that the opponents do not inflict so much damage on you.
You don't have to pay too much attention to % damage and attack speed with this character, since you automatically get these values through weapon kills.
Get enough HP, HP regeneration and some % life steal so that you can withstand enough enemy hits and also be able to regenerate them well.
After a successful run with the character, you will unlock the Spider item, which, similar to the character itself, gives you attack speed for each unique weapon you have equipped.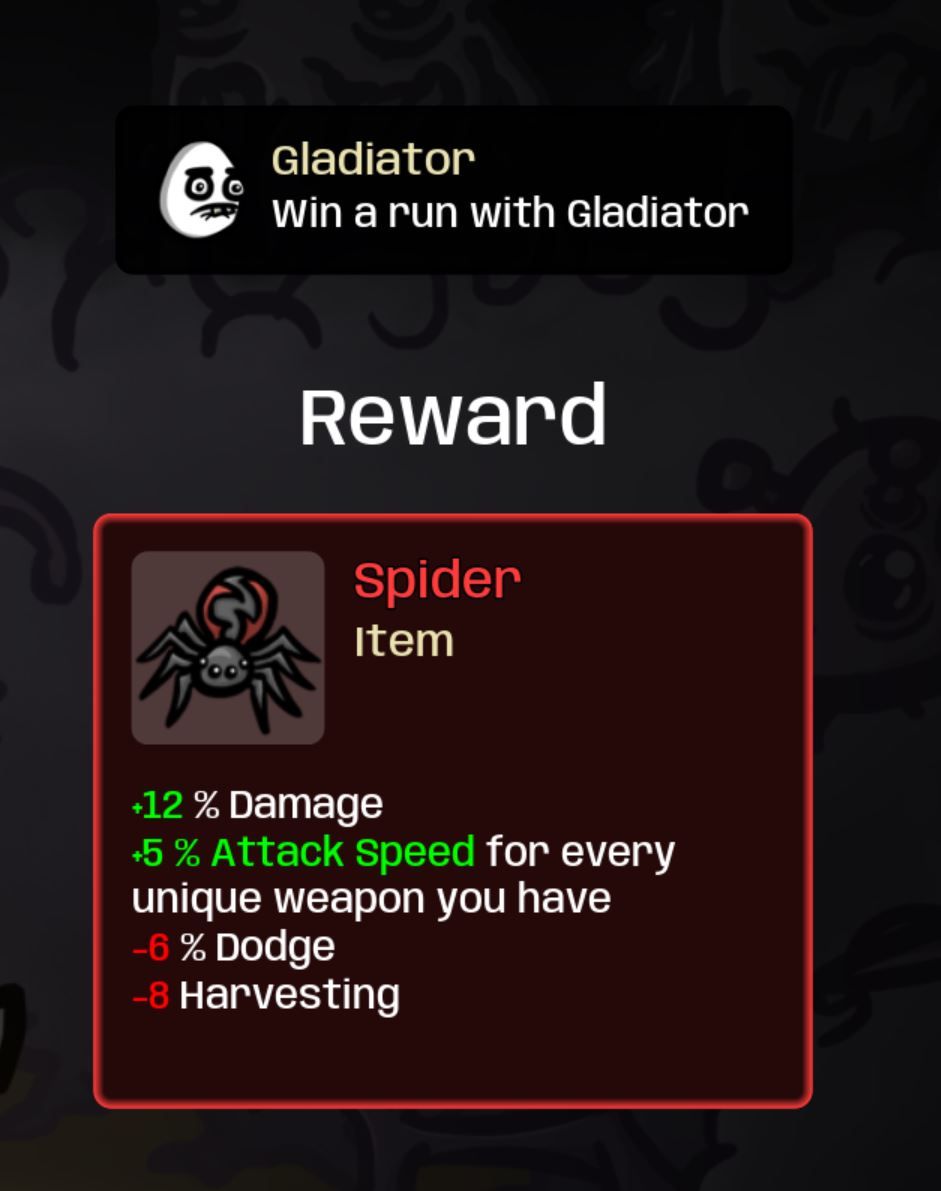 Guide for all Achievements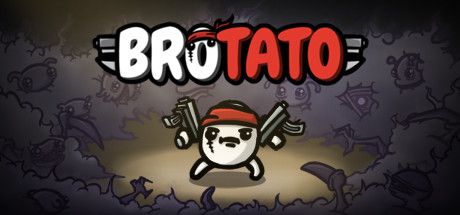 Finally, an affiliate link* to a gaming mouse, perfect for games like Brotato, if you want to support us by clicking on the link at no extra cost. Thanks very much :)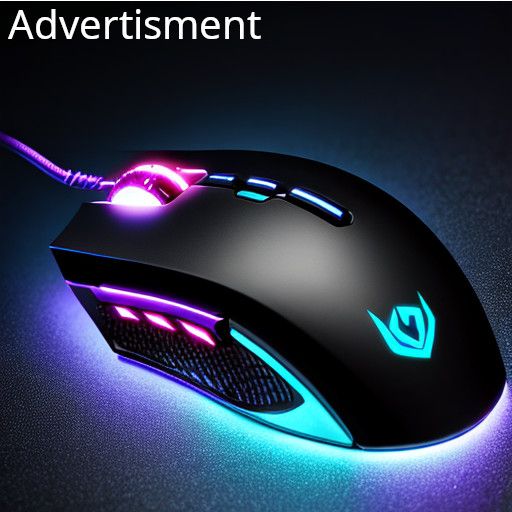 *Affiliate links: We receive a small commission with a purchase, there are no additional costs for you if you order via our link. Many thanks for the support. ❤️