In this post I want to show you a build of the character Demon, with which you can play through the game very well.
The demon is a very unusual character that you potentially have to play a little differently in order not to accidentally be too greedy and end the run prematurely.
The positive trait of the character is that he converts 50% of the materials he possesses at the end of the wave into max HP. Where 13 materials correspond to 1 max HP.
Now come the specifics of the character.
The items in the shop cost max HP instead of materials.
This means that the prices are accordingly lower than the material costs, and rerolling the shop still costs materials !
You have to be extremely careful here, as you can very quickly spend all your HP and then start the wave with 1 HP, which of course will kill you with one hit.
A perfect weapon choice for this character is the Ghost Scepter.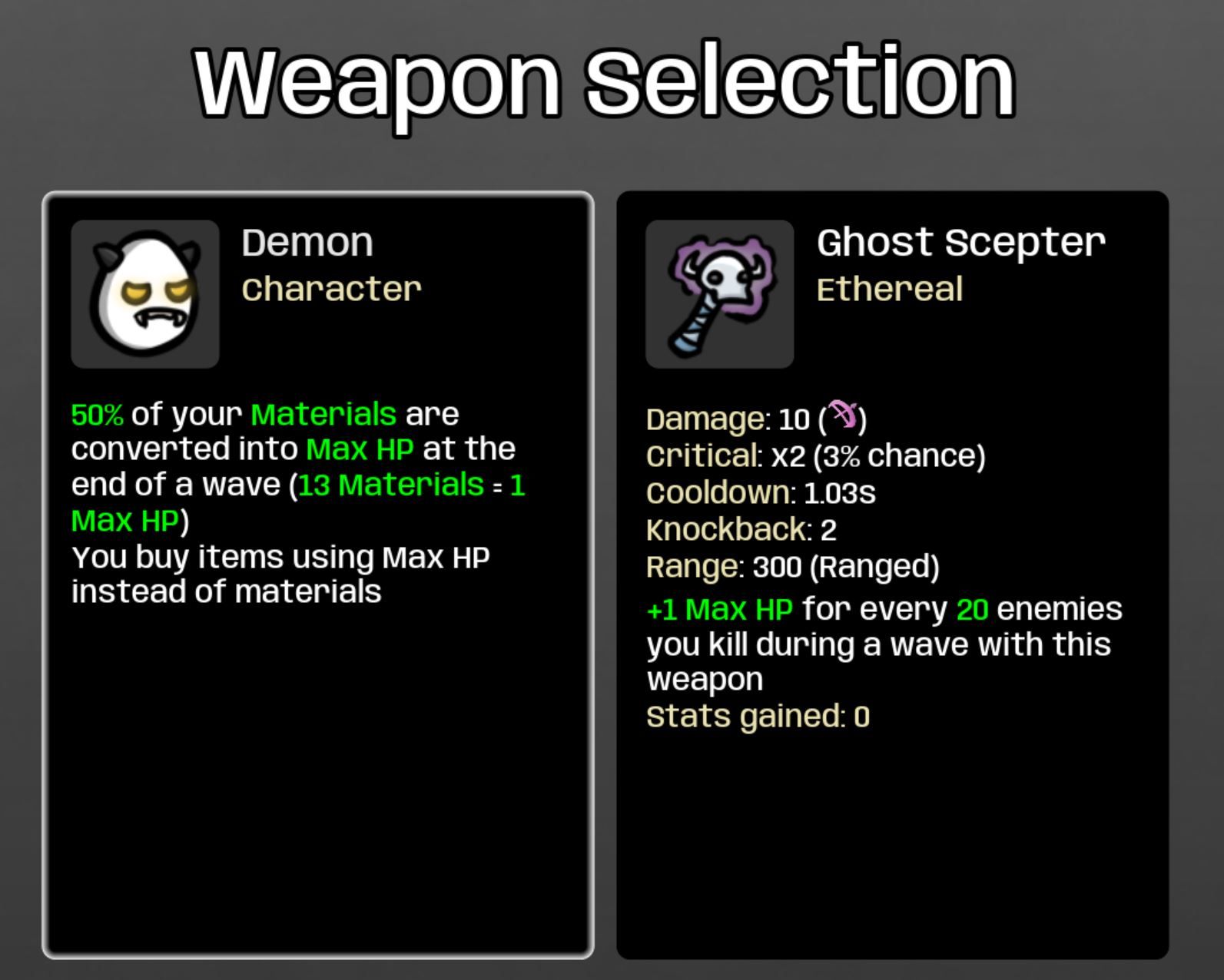 For one thing, it gives you a ranged weapon, which is always an advantage with potentially low max HP, as enemies won't be able to get to it that easily.
On the other hand, with this weapon at level 1 you get +1 max HP for every 20th enemy you have killed during the current wave - the required enemies also decrease with each additional level of the weapon!
Since you will also be shopping in the shop with your HP, you will continue to generate currency for the shop with this weapon, in addition to the materials dropped, or simply additional HP, which, like with any other character, will allow you to survive longer.
Since the weapon does not bring the best wave control with it, you should also fill your weapon arsenal with it as quickly as possible so that you can take as many opponents as possible with you in the wave.
Because you only use existing materials to reroll the shop, you can do this much more often and, with a bit of luck, already have a full arsenal of weapons in the second wave.
A very good item to ensure better control of the waves is the ricochet.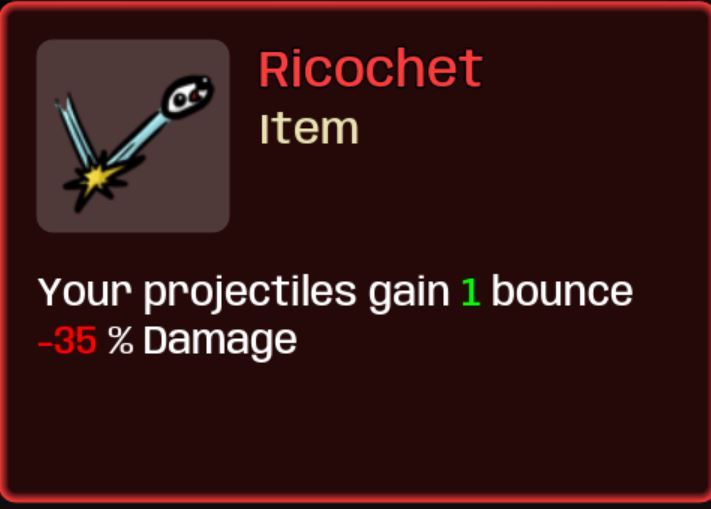 You lose a lot of damage, but your projectiles bounce off another enemy, which in turn will ultimately increase your damage enormously.
Otherwise, values such as attack speed and damage for offensive, and armor, HP regeneration and life drain for defensive are completely sufficient for the character.
After a successful run with the character awaits you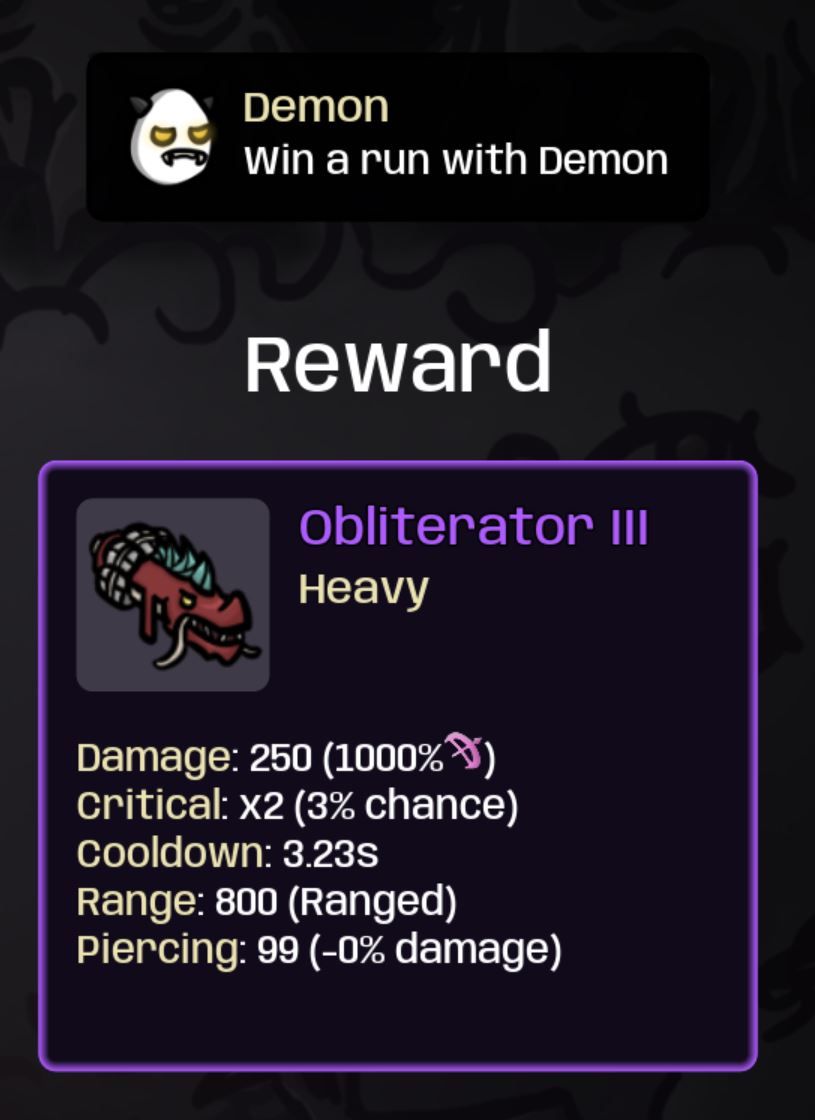 Guide for all Achievements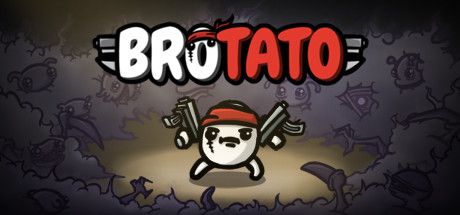 Finally, an affiliate link* to a gaming mouse, perfect for games like Brotato, if you want to support us by clicking on the link at no extra cost. Thanks very much :)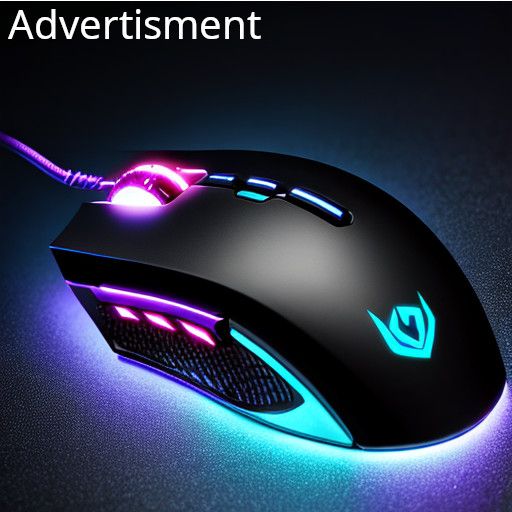 *Affiliate links: We receive a small commission with a purchase, there are no additional costs for you if you order via our link. Many thanks for the support. ❤️