In this post I would like to show you a build of the character Hunter, with which you can play through the game very well.
The positive characteristics of the hunter are, on the one hand, that it starts with a range of +100.
In addition, he receives +1% damage for every 10 range he has, which already leads to an increase of 10% damage from the first bonus.
In addition, his Crit Chance modifiers are increased by 25%.
The character's negative traits are both Harvest modifiers reduced by 100% and Max HP modifiers reduced by 33%.
Because the character gets an additional damage bonus from range and the crossbow also benefits from range in terms of damage, this is definitely the perfect choice here.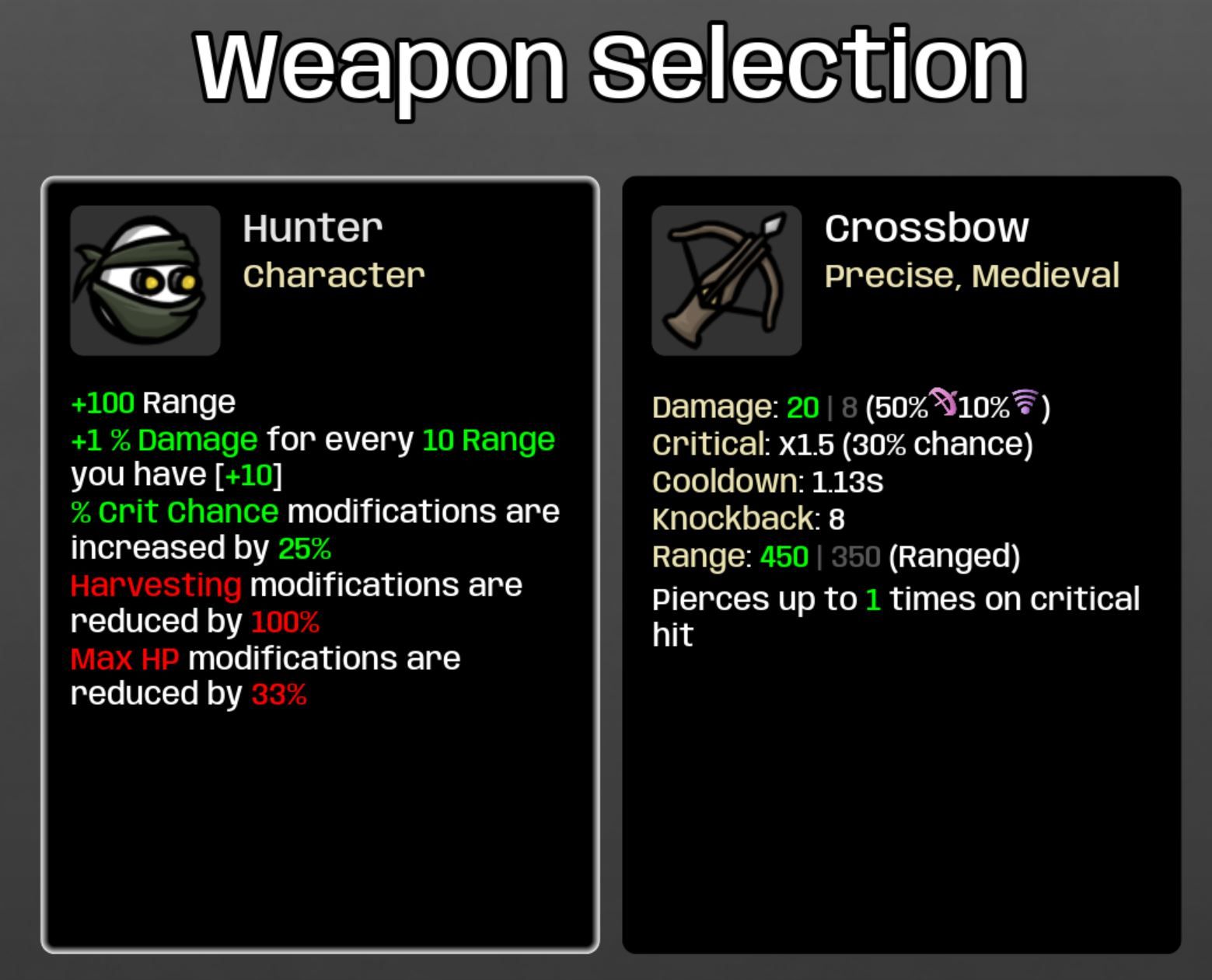 You have to be careful the first few waves, because the character does very good damage, but its HP reduction makes it more prone to sudden death.
Therefore, make sure that you get several crossbows as quickly as possible, which will eliminate the opponents faster.
In terms of stats, you should focus primarily on Crit Chance, so you can make full use of the Crossbow Penetration and it also increases your damage.
Since the weapon already has a very high critical hit chance and the character also benefits from the crit chance, you don't need too much anyway to get a high value or 100%.
In addition, % damage and ranged damage and range are also highly recommended, since the weapon also causes more damage from this.
Due to the fact that the weapon is very slow, attack speed is also highly recommended.
Keep getting some max HP and armor defensively, but focus more on speed and offensive stats, so you can get rid of enemies quickly, as the character can get tanky a lot harder.
If you get a chance to get your hands on the hunting trophy, be sure to get it, it's made for the character - the sooner, the better.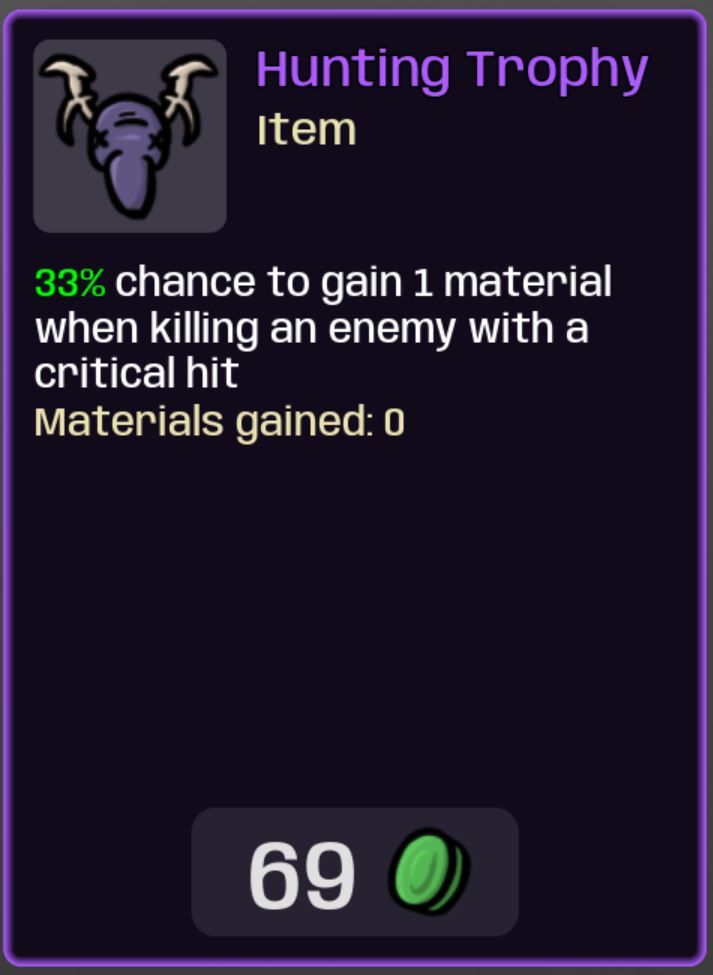 With enough range, you can also keep the opponents at a very good distance, which is extremely helpful for long-range opponents and should be easy.
After a successful run with the character, you unlock the sniper gun for your further runs.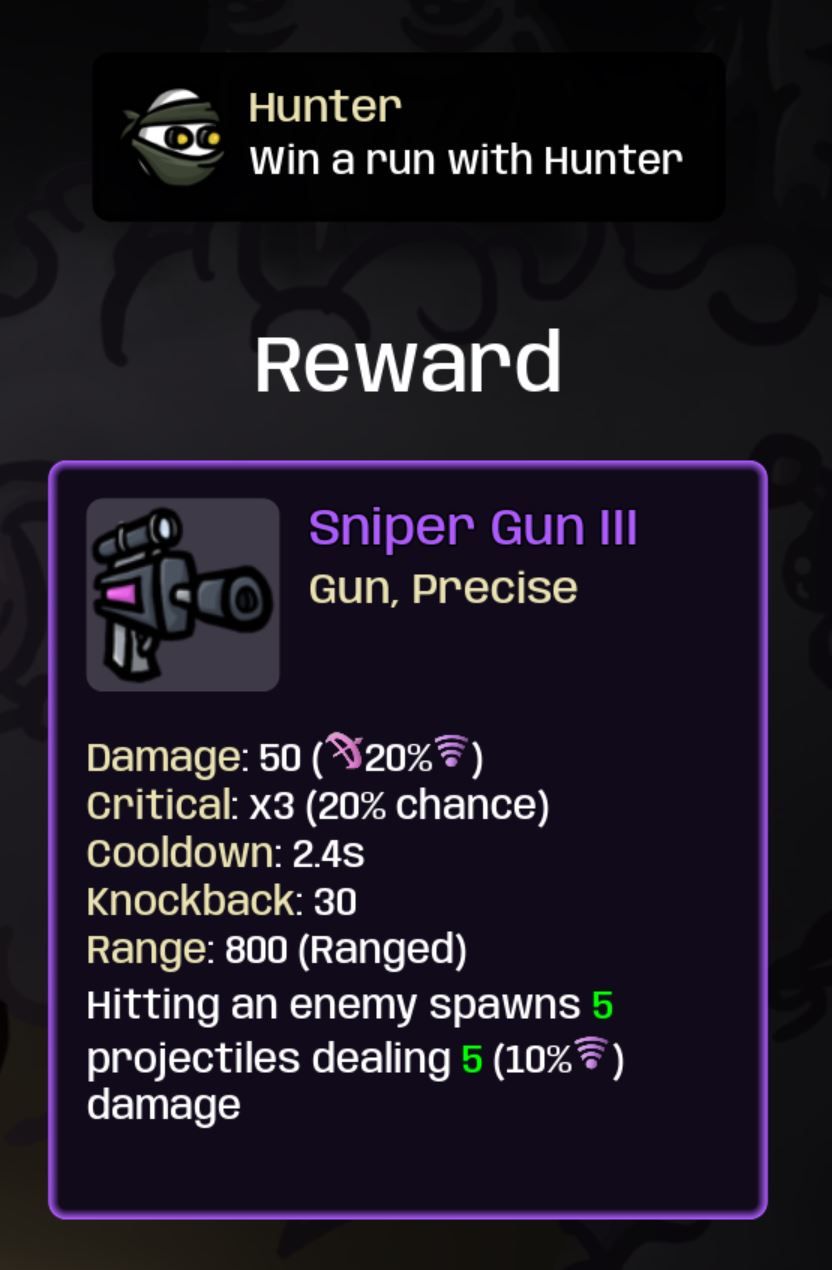 Guide for all Achievements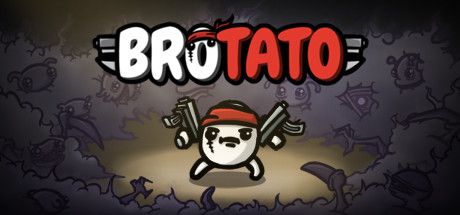 Finally, an affiliate link* to a gaming mouse, perfect for games like Brotato, if you want to support us by clicking on the link at no extra cost. Thanks very much :)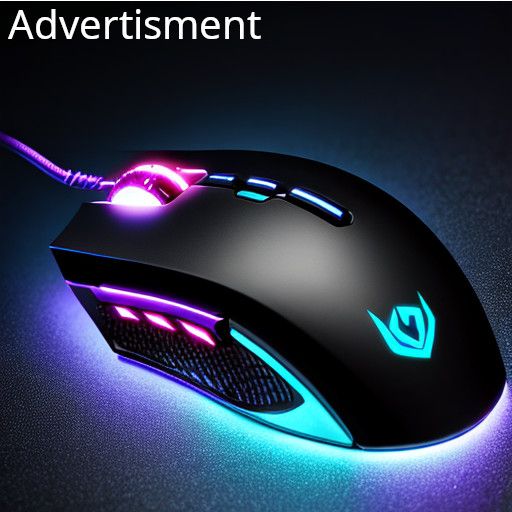 *Affiliate links: We receive a small commission with a purchase, there are no additional costs for you if you order via our link. Many thanks for the support. ❤️