The Confidential Secret Mission of the Day is pinned to the toilet door in the tavern every day from level 10. If you complete this task, you will receive additional exp, depending on your level.
Bonus XP through the Hydra
You can fight up to five times a day against the Hydra. When the Hydra is defeated, it will spawn again the next day, but with one more head.
For every head that the Hydra stretches towards you, every guild member receives 25% additional experience on the Secret Mission of the Day.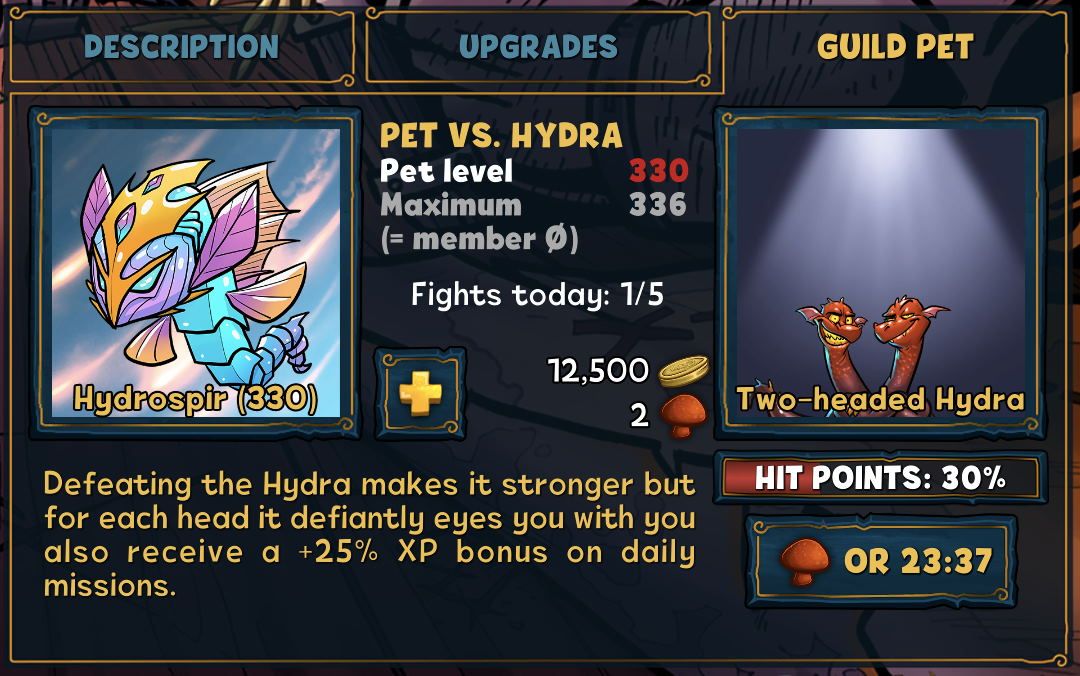 All Daily Quests at a Glance
Tavern
Win against the gambler 3x
Throw an epic item in the arcane toilet 1x (Level 100+)
Complete 10 quests
Drink 3 beers in the tavern
Travel to quest location (3x!); there are 21 locations:

Black Forest
Black Water Swamp
Busted Lands
Erogenion
Evernight Forest
Flooded Caldwell
Gnarogrim
Maerwynn
Magmaron
Moldy Forest
Nevermoor
Northrunt
Plains of Oz'Korr
Rotten Lands
Shadowrock Mountain
Skull Island
Split Canyon
Sprawling Jungle
Sunburn Desert
Stumble Steppe
Tusk Mountain
Character
Increase "Strength" attribute 3x
Increase "Dexterity" attribute 3x
Increase "Intelligence" attribute 3x
Increase "Constitution" attribute 3x
Increase "Luck" attribute 3x
Arena
Defeat an opponent with bare hands 1x
Win against other heroes 5x
Win against Warrior heroes 3x
Win against Mage heroes 3x
Win against Scout heroes 3x
Win against Assassin heroes 3x
Win against Battle Mage heroes 3x
Win against Berserker heroes 3x
Win against Demon Hunter heroes 3x
Fortress
Mine a gem 1x (Level 25+)
Win a fortress attack 1x (Level 25+)
Shops
Throw an item in the magic cauldron 3x (Level 66+)
Let the blacksmith dismantle an item 3x (Level 90+)
Other
Spin Dr. Abawuwu's wheel 5x
Fight in the dungeon 5x
Defeat another player in a pet fight 1x (Level 75+)
Feed the pets 3x (Level 75+)
Defeat a hero in your underworld 3x (Mine Level 10 & "The Tower" unlocked)