The Hellevator in Shakes & Fidget is a sporadic guild event where you can compete against 500 opponents in a "hell elevator" and collect rewards. Find out how the Hellevator works in this post.
Requirements
To participate in the Hellevator you must belong to a guild and be at least level 10.
You can get to the Hellevator by the guild menu "Description". There is the button to the Hellevator.
The Hellevator takes place several times a year and is announced in advance in the Shakes & Fidget forum.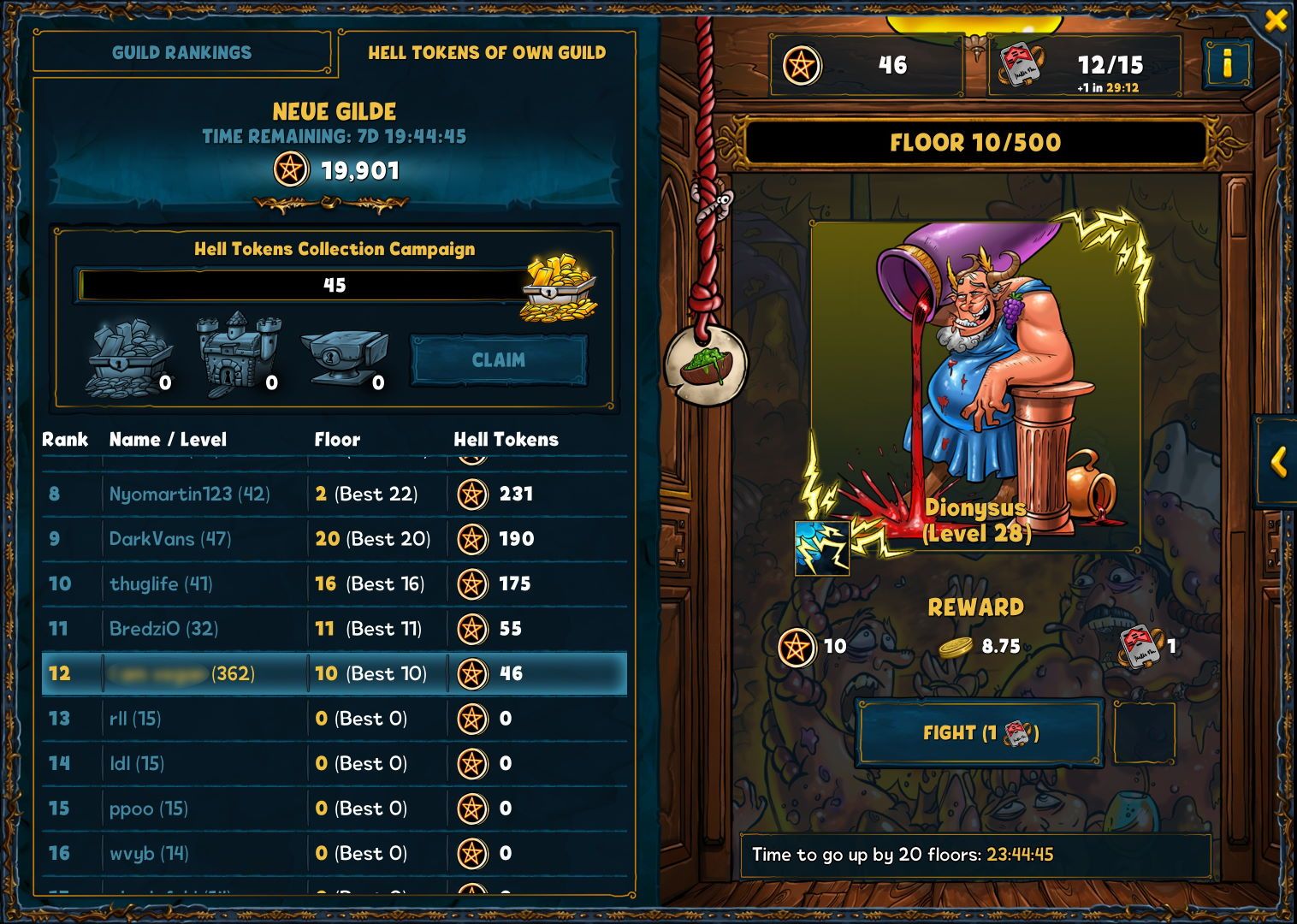 How the Hellevator Works
Key Cards
The Hellevator is a guild dungeon with 500 levels. It can be entered for ten days.
During this event you will automatically collect key cards, these are needed to enter the Hellevator. You will receive a free key card every 30 minutes until you have a maximum of 15.
So in order to be as efficient as possible in the Hellevator, you have to use all of your key cards every 7,5 hours. If you run out of key cards, you can of course enter the Hellevator with a mushroom.
Hell Tokens
For each enemy defeated in the Hellevator, you receive the specified number of hell tokens. The stronger the opponent (and higher the floor in the Hellevator), the more hell tokens you get.
Your guild's accumulated hell tokens are added up. This will determine the placement on the guild leaderboard for that event. The best guilds of this event will receive an extra reward at the end of the Hellevator, depending on their placement.
Loot and Rewards
In addition to hell tokens, you will receive random loot on each floor. In addition, your guild will get some extra loot boxes through the "Hell Token Collection Campaign" as soon as you reach certain milestones for accumulated hell tokens per day - more on that later in this post.
The top guilds will receive special Hellevator rewards at the end of this event, depending on your guild's placement and your level. There are 25 tiered rewards for the best guilds:
Rewards #1-#3
Special profile frame
Orange gem
Arcane splinters
Metal
Gold
Rewards #4-#16
Orange gem
Arcane splinters
Metal
Gold
Rewards #17-#18
Arcane splinters
Metal
Gold
Reward #19-#25
Beelzebub's Emporium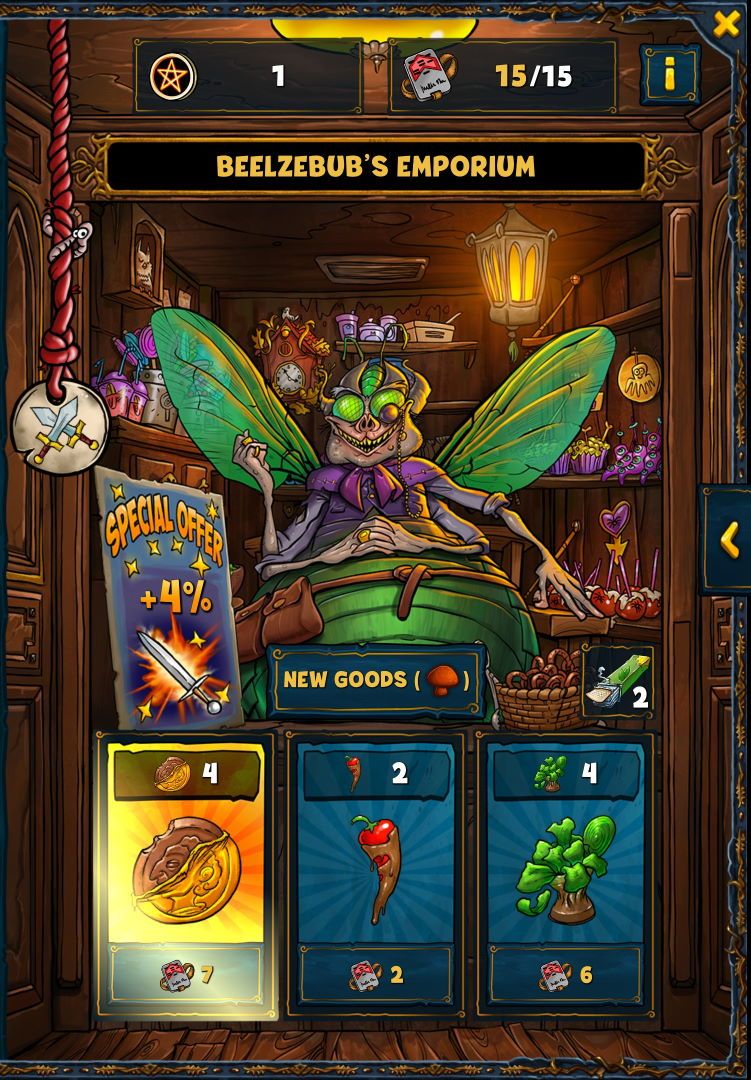 Treats
Pulling the rope to the left of the elevator will take you to an item shop. Here you can buy "treats" - power ups that last for the specified number of floors - for key cards (or mushrooms).
Only one Hellevator treat can be active at a time. If you buy an additional one, the old one will be overwritten.
Hell Tokens Collection Campaign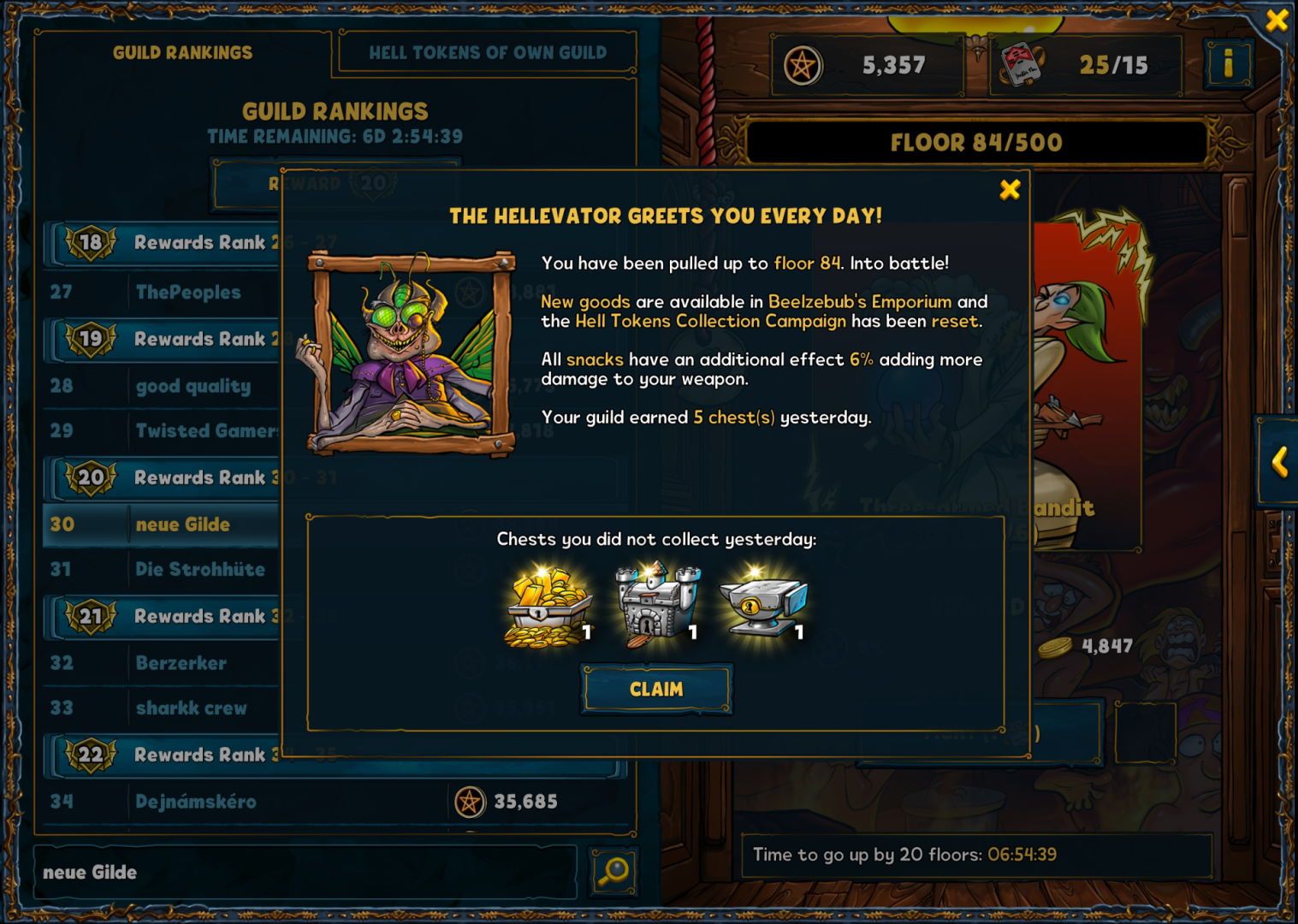 Every day you can earn chests together with your guild as soon as you reach certain milestones of collected hell tokens. You can accumulate up to 50 chests per day, which you can also open the next day.
You can see which type of chest you will receive for the next milestone under "Hell tokens of own guild". You can earn three types of chests:
Gold chest: Contains gold
Fortress chest: Contains wood and stone
Blacksmith's Chest: Contains metal and arcane splinters