The mounts in Shakes & Fidget allow you to travel to your quests faster. Which mount is effectively the best?
From level 1 on, you can lease one of four mounts for your character. The mount allows you to get to the quest locations faster and thus shortens your travel time. You keep the saved travel time as thirst for adventure. That thirst can be used for additional quests.
Overview of all Mounts
The leasing period for each mount is two weeks, but there is no limit to how often you can buy a mount. Accordingly, the leasing period is extended by two weeks each time.
| Mount (Alliance/Pack) | Travel Duration | Price |
| --- | --- | --- |
| Cow/Pig | -10% | 1 Gold |
| Horse/Wolf | -20% | 5 Gold |
| Tiger/Raptor | -30% | 10 Gold, 1 Mushroom |
| Griffin Dragon/Dragon Griffin | -50% | 25 Mushrooms |
Depending on which race you have chosen, you will get a different mount. The races of the alliance (humans, elves, dwarves, gnomes) receive a cow, horse, tiger or griffin dragon as mount.

On the other hand, if you choose a race from the pack (orcs, dark elves, goblins, demons) you will receive a pig, wolf, raptor or dragon griffin as a mount.

If you don't like your mount, you can always change your race. To do this, simply click on your portrait, where you can change your avatar and race for the price of 1 gold. The look of the mount does not affect the bonuses it gives you.
Which Mount is the Best?
Introduction
There are four different lengths of quests (5/10/15/20 minutes) in the tavern, which can be even shorter depending on your mount. For this comparison I assumed that four players always choose the longest quest (20 minutes) for two weeks.
Each of the four players chooses a different mount and also has 25 mushrooms available. The players use these mushrooms to lease the mount or to fill up their thirst for adventure with beer from left over mushrooms.
You are guaranteed to receive a mushroom for the first quest of the day, and there is also a certain chance that mushrooms can be found during quests. This results in an average of at least 25 mushrooms in two weeks.
Mounts in Direct Comparison
The diagram shows how many 20-minute quests can be completed by the four players within two weeks:
Player with -10% mount:
For just one gold he has by far the weakest mount and accordingly manages to complete the fewest quests. Since he has 25 mushrooms left over, he can buy beer for the first two and a half days to increase his thirst for adventure. Nevertheless, the player with the -50% mount overtook him on the seventh day. He completes a total of 106 20-minute quests in 14 days.
Player with -20% mount:
Almost the same applies here as with the previous player. The -20% mount does not cost any mushrooms either, which is why they can be spent entirely on beer. On the 9th day he too is overtaken by the -50% Mount. In total, he manages to complete 119 20-minute quests in 14 days.
Player with -30% mount:
This player comes closest to the -50% mount, even if he is still at a disadvantage. Because the -30% mount costs one mushroom, he has one less mushroom available for beer over the course of 14 days. He manages a total of 134 20-minute quests in 14 days.
Player with -50% mount:
Even if this player has to start a little slower because he can not buy any beer, he still manages to complete the most quests.On the 13th day he finally even overtook the -30% mount. He completes a total of 140 20-minute quests in 14 days.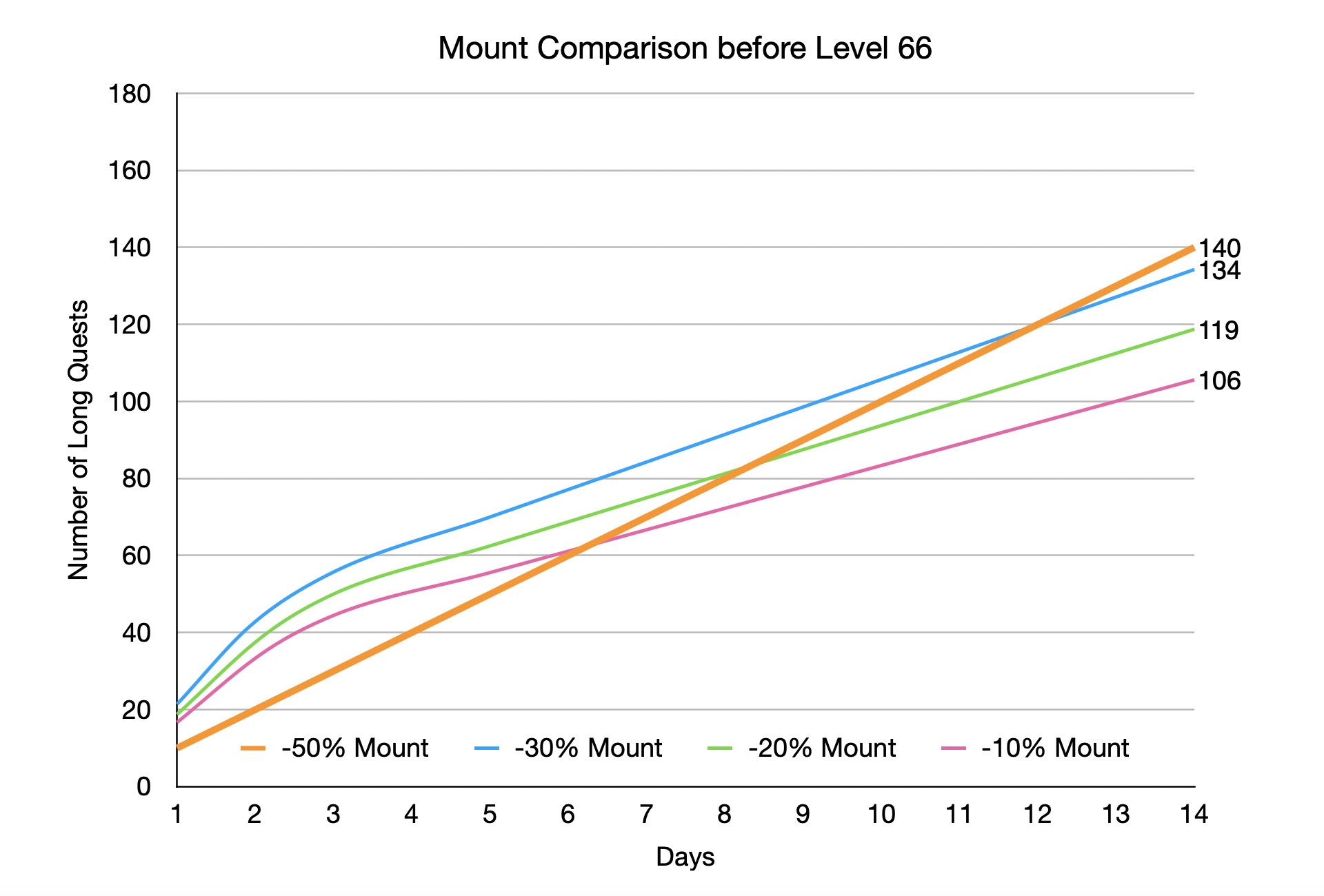 From level 66 you finally unlock the witch. This gives you access to enchantments that you can apply to your equipment. One of these enchantments is "Thirsty Wanderer", with which you can drink a free extra beer in the tavern every day.
One beer equals 20 additional thirst for adventure that can be consumed. This is of course most worthwhile for the -50% mount: Here you can do two additional 20-minute quests. After two weeks you will be able to complete 168 20-minute quests. That's 14 quests more than with the -30% mount.