Development of DayZ 2 was recently revealed through internal Microsoft documents. Why this information appears in a Microsoft document is explained in this post.
The rumor mill has been swirling for some time now. Certain YouTubers were even certain that a sequel to DayZ, utilizing Bohemia's new ENFUSION engine, would be forthcoming.
Official information has now emerged from documents belonging to the US Federal Trade Commission (FTC). Due to legal disputes, internal documents from Bohemia Interactive have been disclosed. One of these documents explicitly states:
"Dev working on Arma Reforged, Arma 4 and DayZ 2"
So this is where DayZ 2 is officially mentioned.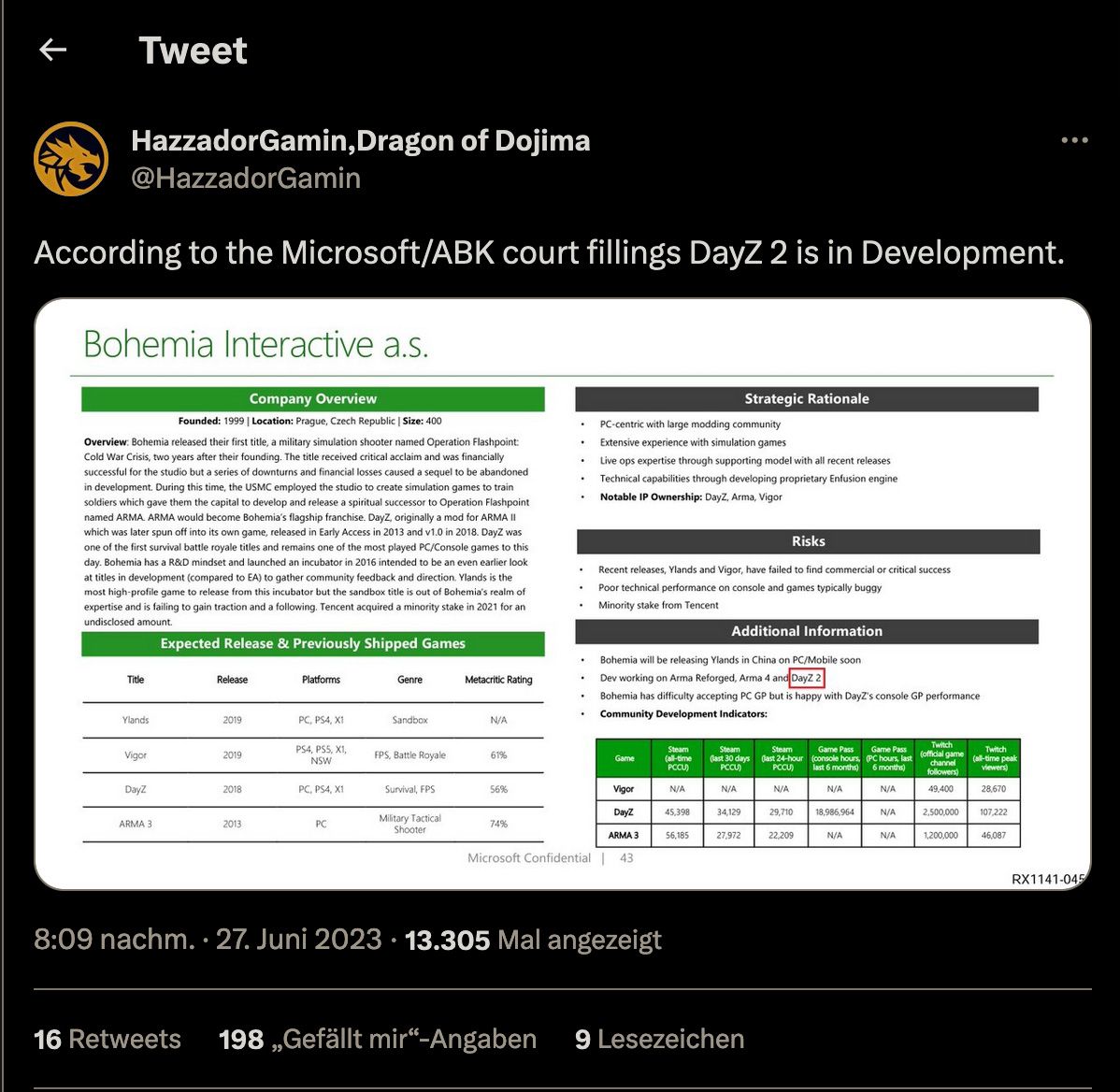 Microsoft had planned a takeover of the Prague-based studio, Bohemia, which explains why this information was included in the documents.
It's also worth noting that in 2020, Bohemia reassigned the Bratislava studio from DayZ. Could the Bratislava studio already be working on DayZ 2? (Link to Gamestar) (Link Gamestar )
The Microsoft document provides a brief overview of the game studio, a summary of their released games, and highlights those that have been particularly successful. This was created to inform decision-makers at Microsoft. Games like DayZ, Arma, and Vigor are mentioned. In outlining the risks associated with acquiring the company, it's noted that performance on consoles is typically poor and the games are often prone to errors.
Additionally, the documents reveal that Bohemia, the developer of DayZ, isn't particularly fond of the Microsoft Game Pass for the PC version, but they seem fairly satisfied with the console version.
The document also mentions some significant statistics regarding DayZ. For instance, Game Pass users have logged 18,986,964 hours playing in the last six months. Interestingly, Twitch's peak viewer count is also used as a metric.
Here is the original tweet: https://twitter.com/HazzadorGamin/status/1673755354356916224
Computerbase on the subject: https://www.computerbase.de/2023-06/microsoft-vs-ftc-dokument-bestaeigt-arbeiten-an-dayz-2/
If you want to get a first impression of the new ENFUSION Engine, you can watch this video: https://www.youtube.com/watch?v=3R3hcfHjRtQ