With the recent updates, the offers of the gambler have also been expanded. In the new minigame you can win six different resources every day.
You unlock the dice game as soon as you meet the following requirements:
Pet nest activated (from level 75)
Tower unlocked (defeated 9 dungeons)
To try out the new dice game, all you have to do is click on the dice symbol at the gambler in the tavern.
How the Dice Game Works
The game starts with a click on roll dice. You have two rolls per round, and you can keep individual dice by clicking on them after the first roll. The second roll then follows with the remaining dice.
To win you need at least three of the same dice. If you have four of the same dice, the reward increases by a factor of 5. In the same way, the reward increases with five of the same dice: This means that the reward is 25 times higher than with three of the same dice.
You can win:
Gold
Wood
Stones
Souls
Arcane Resources
Quicksand Hourglasses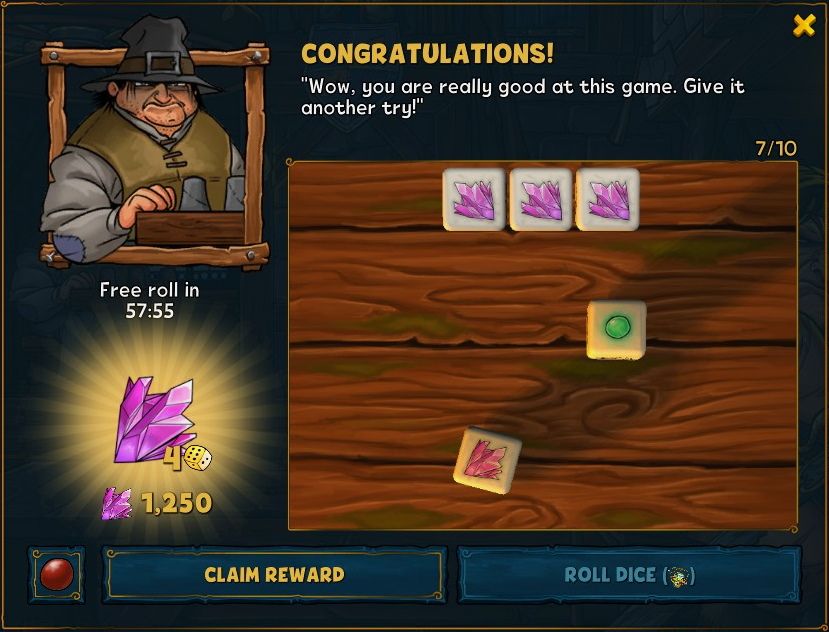 After a round you either have to wait an hour or invest a quicksand hourglass to start a new round straight away. Up to ten rounds are possible per day, after which you have to wait until midnight to reset your daily rolls.
All Winning Combinations in the Dice Game
| Reward | 3 Dice | 4 Dice | 5 Dice |
| --- | --- | --- | --- |
| Gold (Base Value City Guard) | 1 Hour | 5 Hours | 25 Hours |
| Wood/Stones | 1,2% of Storage | 6% of Storage | 30% of Storage |
| Souls | 0,037% of Storage | 0,18% of Storage | 0,91% of Storage |
| Arcane Resources | 250 | 1250 | 6250 |
| Quicksand Hourglasses | 5 | 25 | 125 |
Since the quicksand hourglasses are not only good for skipping the travel time of quests, but can also be used to roll the dice, it is worth focusing on them here.
In addition, the arcane resources are also very useful for upgrading the equipment, as they are particularly valuable and rare.
The souls are the least worthwhile: Even if you roll five dice of souls, you get less than 1 percent of the storage capacity of souls.