The achievements in Shakes & Fidget grant big bonuses to the attributes if you know how to get them. Here you get to know the tricks so that you can get to all achievements as quickly as possible.
On May 24, 2017 the browser game Shakes & Fidget has said goodbye to the eight medals so far. These were replaced by achievements, which can now be viewed in the scrapbook (to be found in the magic shop from level 10). The best tips to unlock all achievements are described in this post.
The old medals were awarded quite passively, by simply progressing in the game, they were upgraded until a maximum of +12 skill points on all attributes (so +96 on all attributes at maximum). The bonus for achievements can still be partially achieved passively, but for others you have to actively do something to dust off the bonuses. For each achievment unlocked the character is awarded +5 skill points on all attributes. With this and many other changes to the game, some dungeons should be much easier to clear.
The Achievements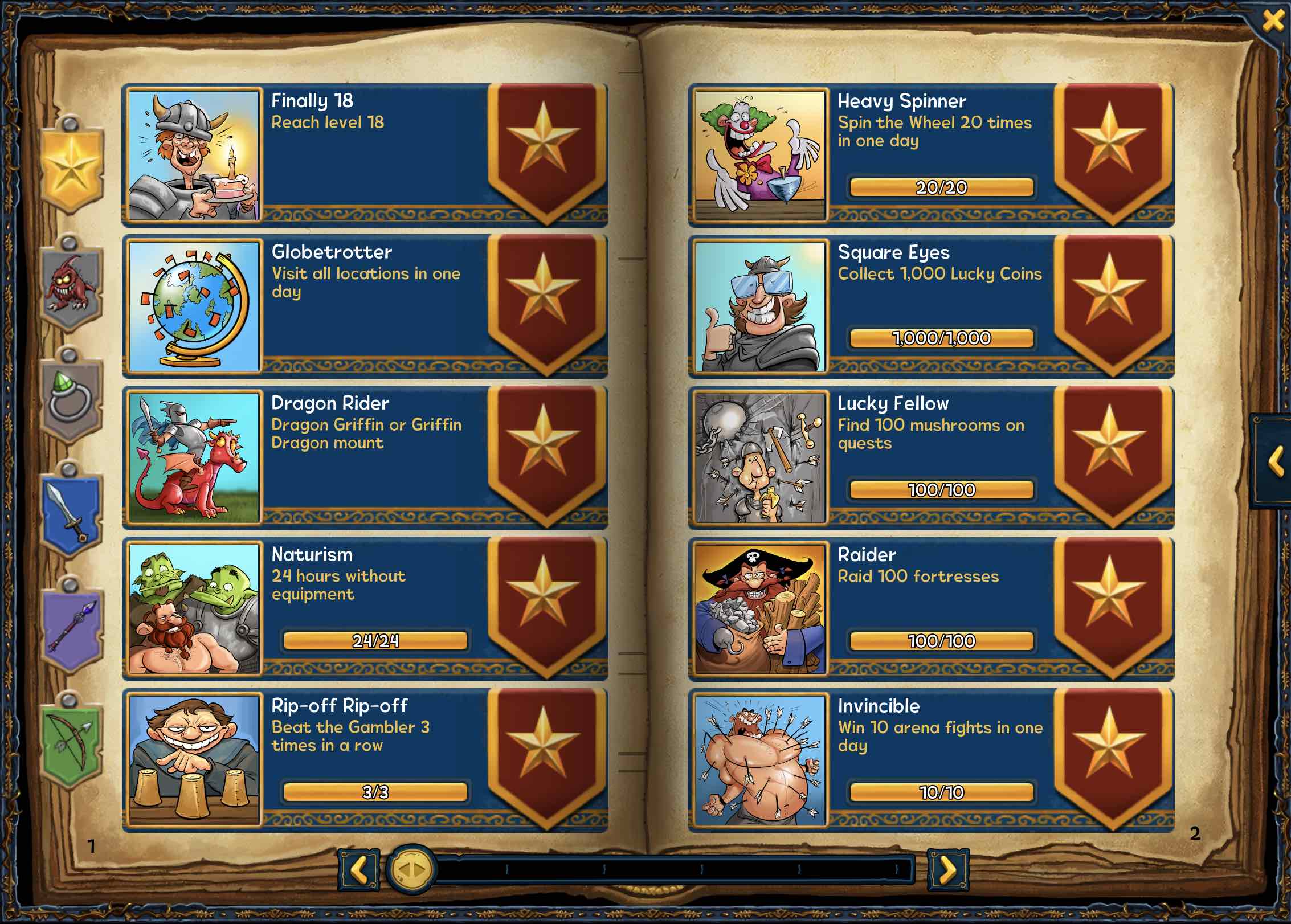 ---
Page 1/2
---
Finally 18
Reach level 18
Globetrotter
Visit all locations in one day
Hint: Each quest in the tavern takes place in a specific area.
There are 21 areas in total:
Black Forest
Black Water Swamp
Busted Lands
Erogenion
Evernight Forest
Flooded Caldwell
Gnarogrim
Maerwynn
Magmaron
Moldy Forest
Nevermoor
Northrunt
Plains of Oz'Korr
Rotten Lands
Shadowrock Mountain
Skull Island
Split Canyon
Sprawling Jungle
Sunburn Desert
Stumble Steppe
Tusk Mountain
Dragon Rider
Dragon Griffin or Griffin Dragon mount
Naturism
24 hours without equipment
Hint: At the beginning you do not have many items, so you can put them in your backpack more easily. You should be able to win the level 10 quests without a weapon.
Ri-off Rip-off
Beat the Gambler 3 times in a row
Hint: Spend as much gold as possible in advance and then always set the minimum amount. Which hat you choose does not matter. Whether you win is pure luck.
Heavy Spinner
Spin the Wheel 20 times in one day
Hint: You can not only spin for a mushroom, but also for 10 lucky coins. So you need a total of 190 lucky coins, because the first time spinning per day is free.
Square Eyes
Collect 1,000 Lucky Coins
Hint: You can get lucky coins by watching videos in the tube.
Lucky Fellow
Find 100 mushrooms on quests
Raider
Raid 100 fortresses
Invincible
Win 10 arena fights in one day
---
Page 3/4
---
Song of the Blacksmith
Hoard 10,000 arcane resources
Hint: Crystals are gained by dismantling items at the blacksmith. You unlock the blacksmith with level 90. For Epics you get a lot of crystals.
Sky is the Limit
Improve an item 10 times
Miner
Mine 100 things
Hint: Until level ~ 150, keep the mine at level 1. This way, the time of the gem search is significantly shortened.
Collecting Mania
Scrapbook 90% complete
Anniversary
Play for 1 year
For Seven Days
Play 7 days in a row
Always On
Play 30 days in a row
Reliable
Be actively involved in a guild for 10 days
Hint: It only counts to participate in guild fights and to fight against the demon portal. Donations do not count!
Elite Guild
Reach 5,000 Guild Honor
Hint: On older servers, just ask a guild with more than 5,000 honor if they are still looking for players.
Big Spender
Spend 10 mushrooms on personal guild skill
---
Page 5/6
---
Hero
Reach level 100
Elite
Reach level 200
Tip of the Iceberg
Reach level 300
Superhero
Reach level 400
Epic Superhero
Reach level 500
Jeweler
Gems in all equipped items
Black Gold
Wear 9 items with black gems
Hint: Black gems can only be found once a player in the guild has the knights hall at level 15. The chance to find them also depends on the knight's hall total levels in the guild.
Fashion-conscious
Wear 6 items of the same set
Hint: Here you can check, which items form a set.
Epic Purist
Have only epics equipped
Hint: Warriors and Assassins must carry one Epic less than Mages, Scouts and Battle Mages for this achievement, because they also have one more item slot.
Epic Companions
Equip companions with epics only
---
Page 7/8
---
Alter Ego
Complete Magic Mirror
Hint: Mirror shards can be found from level 50 at tavern quests.
Witchcraft
Wear only enchanted items
Hint: Enchantments can be purchased from the witch. She can be found by clicking on the inconspicuous book in the bookshelf at the magic shop.
Shroomer
Buy mushrooms from the dealer
Urgent Need
Find the Toilet Key
Hint: From level 100, WC keys can drop at quests. Keys can be hoarded and yet found again. Worth a consideration, since it is 25,000 gold selling price per key.
Shadow World Cruise
Defeat the first enemy in Shadow World
Hint: The key to the Shadow World is found at level 125 in the gem mine.
Pet Lover
Find the pet nest
Hint: From level 75, the pet nest can be found at quests in the tavern.
Pat Fattening
Feed pets 15 times in one day
Hint: The fact that the fruits are no longer stored in the inventory, this achievement should be much easier to unlock. Now you can save three fruits per element within five days and then feed everything at once.
Animal Trainer
Upgrade a pet to level 100
Hint: How to level the pets and which one to bring first to level 100, you will learn here.
Petshop Boy
Reach 5,000 Pet Honor
Cryptozoologist
Find all pets
---
Page 9/10
---
Storyteller
Clear the Tower
Boss of Easteros
Clear Easteros (dungeon 14)
Dark Wanderer
Clear Demon Portal (single player)
Shadow Player
Clear Shadow World
Twister Tamer
Clear the Twister
Mule
Backpack fully upgraded and full
King of Kings
Reach 5,000 Fortress Honor
The Count
Upgrade all fortress buildings to level 15
The King
Fully upgrade all fortress buildings
Collect 'Em All
Collect all 49 previous achievements
---
Page 11/12
---
Metropolis
Upgrade all Underworld buildings to level 15
Big City
Upgrade all Underworld buildings to level 10
Small City
Upgrade all Underworld buildings to level 5
Gold Storage
25 million Gold mined
Soul Storage
25 million Souls reaped
Slaughterer of the Best
Defeat rank 1 in your Underworld
Top 100 Topper
Defeat a top 100 hero in your Underworld
Top 1000 Topper
Defeat a top 1000 hero in your Underworld
Horror of Heroes
Defeat 1000 heroes in your Underworld
Outsourcing
25 quests with 1 click thanks to Adventuromatic
Hint: For 25 quests you have to save 200 thirst for adventure in the adventuromatic.
---
Page 13/14
---
Academic Orders
Clear the School of Magic Express (Shadow)
Good vs. Evil
Clear the Ash Mountain (Shadow)
Commentary Cracker
Clear the Continuoes Loop of Idols
Hint: The continuoes loop of idols is a dungeon where you have to compete against the images of well-known YouTubers.
Dehydration
Behead the Hydra with the decisive blow
Hint: The Hydra is the opponent of the pet of your guild.
Deep Mining Master
Upgrade Mine and Gold Pit to level 50
Special Agent
Complete 100 Daily Missions
Hint: Daily Missions can be found in the tavern to the right of the gambler pinned to the wall with a sword.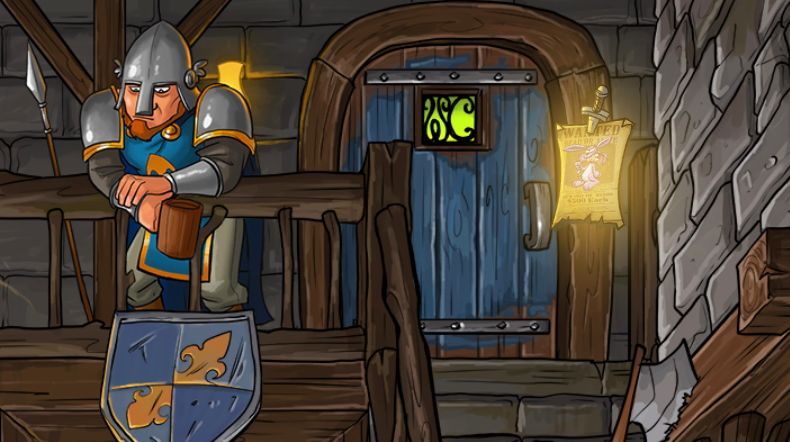 St. Nicholas
Unequip shoes and in inventory on December 6, 0:01
Reinvent the Wheel
Find the enhanced Wheel of Fortune
Hint: The enhanced Wheel of Fortune can be found at quests from level 95.
Second Screen
Play on different devices
Hint: You have to at least once logged in on different platforms, for example, with the smartphone app, the Steam application, through the browser and so on.
Day X
We'll let you know when the time has come.
Hint: This Achievement can be unlocked in various ways. The problem with that is, that you do not know exactly what you have to do for it.
Here are some examples of how players got this achievement:
Click New Goods in the weapon shop
Change the game language
Spin the wheel of fortune 20 times
Level up main attribute
Start a city guard shift
Finish quest
These are just examples. If one of these actions actually unlocks the achievement for you, can not be said with certainty.
---
Page 15/16
---
Rune Millionaire
Collect 1 Million Runes in the Arena Manager
Runes, runes, runes
Collect 1 Trillion Runes in the Arena Manager
Capitalist
Collect 1 Quintillion Runes in the Arena Manager
Stinking rich
Collect 1 Septillion Runes in the Arena Manager
Rune Master
Collect 1 Decillion Runes in the Arena Manager
Rune Emperor
Collect 10 Novemquadragintillion Runes in the Arena Manager
Arena Manager
Upgrade all attractions of the Arena Manager to level 25
Hint: For a complete overview of the Arena Manager, check out our guide.
Lancelot
Find the Holy Grail
Hint: The Holy Grail can be found from level 85. More information here.
Odin
Defeat the Nordic Gods
Loki
Defeat the Nordic Gods (Shadow)
---
Page 17/18
---
Zeus
Climb Mount Olympus in Light World
Hint: The key for this dungeon can be found from level 200 in the mine of your fortress.
Hades
Climb Mount Olympus in Shadow World
Hint: The key for the shadow version of the Mount Olympus can be found from level 300 in the mine of your fortress.
Door Opener
Open door #20 of the daily login calendar in December
Five of a Kind
Roll 5x the same icon at the gambler
Hint: To unlock the game of dice, you have to activate the pet nest (level 75) and unlock the tower (clear dungeons 1-9).
Capacious Pockets
Unlock all 50 inventory slots
Hint: To unlock additionial inventory slots, you have to upgrade the treasury in your fortress. For every level you gain one slot.
Birth of a Legend
Find your first legendary item
Hint: For one legendary item you must complete a full run of the legendary dungeon.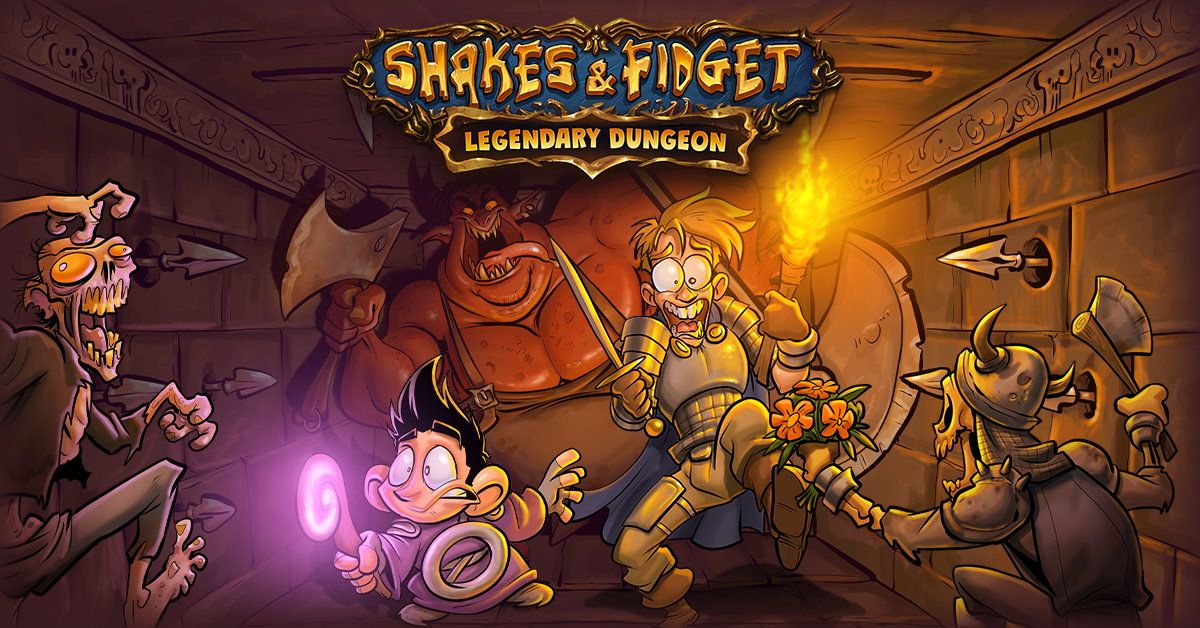 Living Legend
Have 10 legendary items in the scrapbook
Second Wardrobe
Fully equip your mannequin
Hint: From level 105 you unlock the arena manager, then you must collect 1.000 runes before the "mannequin" can appear in the weapon shop.
100-Timer
Increase an attribute to 100 (base value)
A Thousand Points Plan
Increase an attribute to 1.000 (base value)
---
Page 19/20
---
Ten Grand
Increase an attribute to 10.000 (base value)
Tavern Brawler
Clear the Tavern of the Dark Doppelgangers in Light World
Closing Time
Clear the Tavern of the Dark Doppelgangers in Shadow World
Dragon Adept
Clear Dragon's Hoard in Light World
Chaser of Dragons
Clear Dragon's Hoard in Shadow World
Bright Ghost Hunter
Clear House of Horrors in Light World
Dark Ghost Hunter
Clear House of Horrors in Shadow World
League of Incompetence
Clear 3rd League of Superheroes in Light World
League of Vindictiveness
Clear 3rd League of Superheroes in Shadow World
Ying Dojo Master
Clear Dojo of Childhood Heroes in Light World
---
Page 21
---
Yang Dojo Master
Clear Dojo of Childhood Heroes in Shadow World
Understander of Giants
Clear Monster Grotto in Light World
Tamer of Giants
Clear Monster Grotto in Shadow World